You will have the power to curate your service menu for online booking! Display precisely the services you offer, ensuring a seamless and user-centric experience for your clients.
How To Set Up Online Booking Service
Go to Online Booking > Settings > Service. Click on add-on to set it up on the same page.
Please note that you need to go to the desktop version to set up online booking service.
Step 1: Set Up Service Menu
Click on < Set up service > to jump to general settings to define the Type & Breed, Weight, and Coat Type for each service.
Click here to know more details on Set Up Service & Add-on.
Step 2:  Decide If Only Show Applicable Services On Booking Page
With the toggle on, clients can only see and book services & add-ons that are applicable to the pet's weight/type/breed/coat type, which is set up in the previous step.
For example: Service "Full service - small" is to serve all breeds between 1 and 10 pounds, including short coats and double coats. Then this service will be available to Kiki, an Akita in 6 pounds with a short coat, but not available to Joey, an Asbash in 8 pounds with a long coat.
This is to prevent clients from booking the incorrect service for the pet and to ensure the groomer's deserved revenue on the service.
Step 3: Set Up Available Service For Online Booking
Only with the toggle on will the service will open to clients when booking online.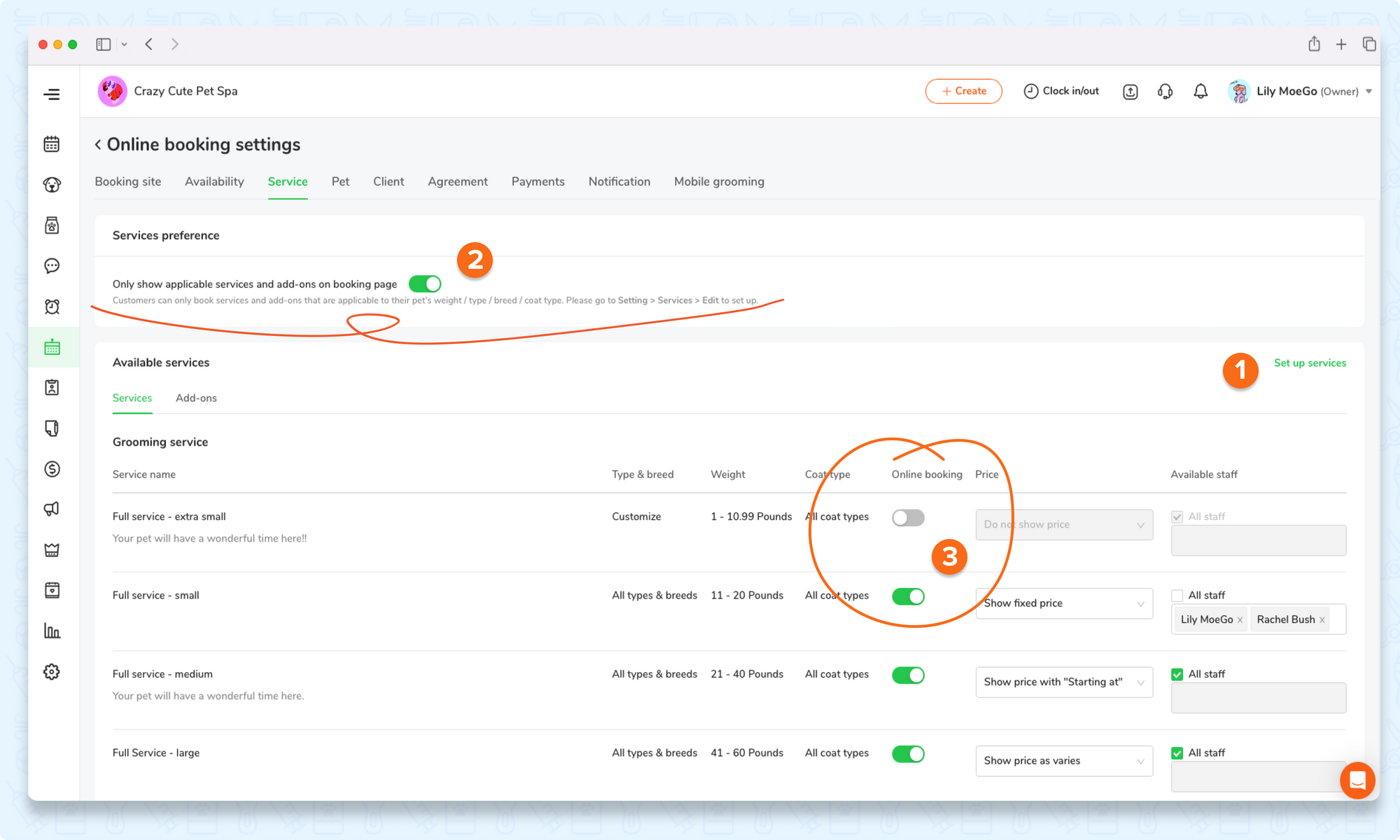 Step 4: Set Up Price Format Shown
Click on the price to select from the dropdown list. There are 4 types of formats that can select to show.
Do not show price
Show fixed price
Show price with "Starting at"
Show price as varies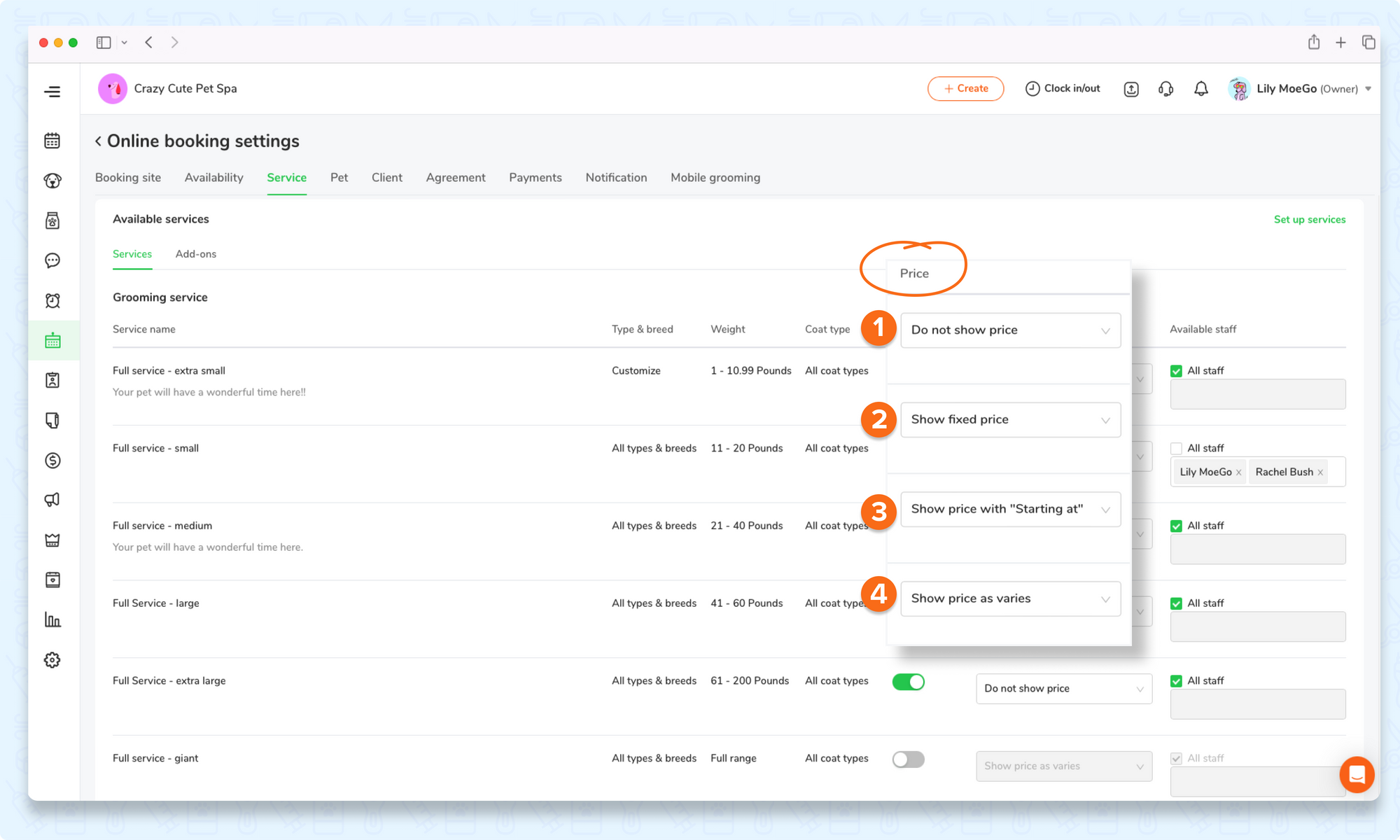 Here is how the service menu with price will show on the landing page and the booking page.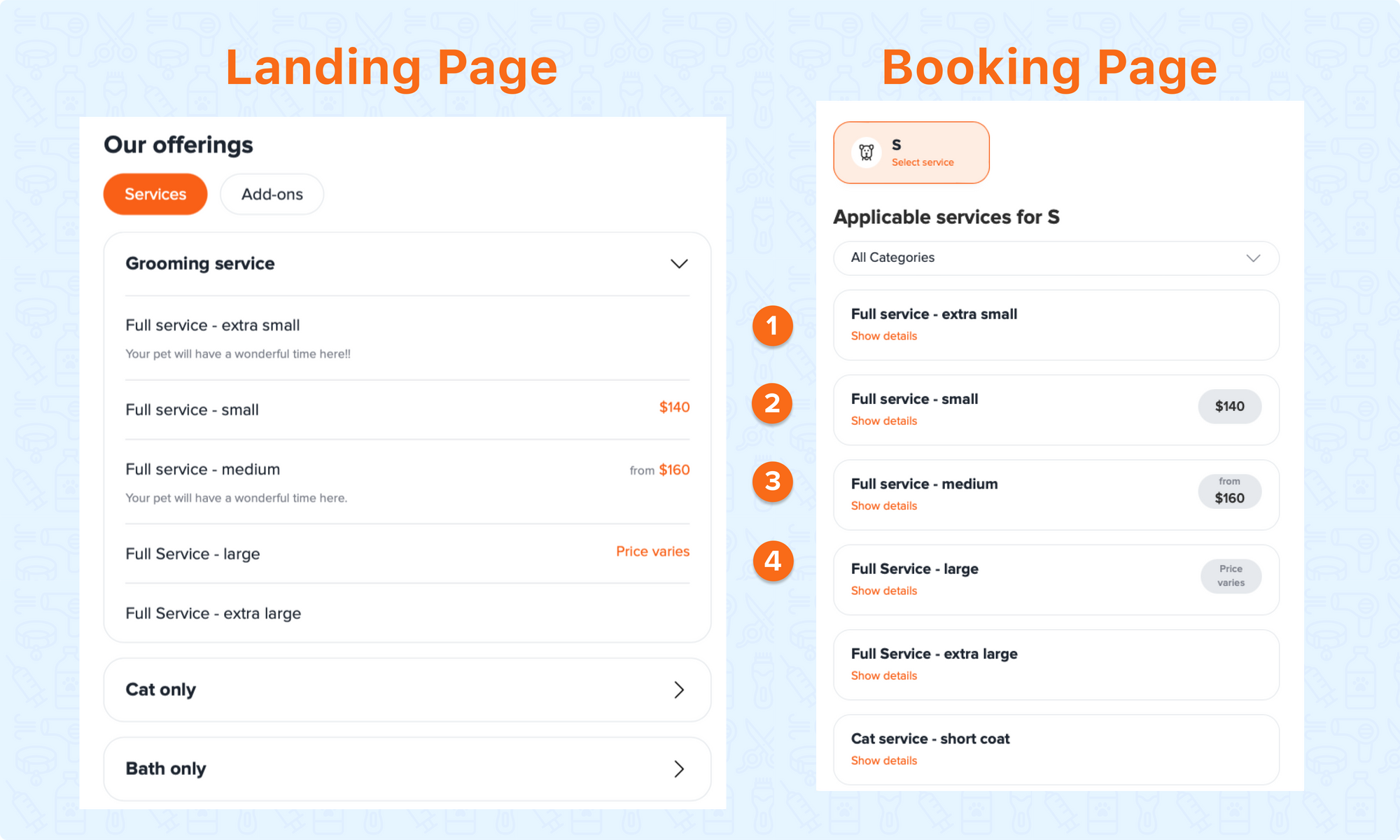 Step 5: Set Up Available Staff For Each Service
Option 1: Click on the checkbox < All Staff > to enable all staff's availability to the service.
Option 2: Click on the tag with staff name to enable certain staff's availability to the service.
Please note that if the staff is not enabled for the service, there will be no availability for the staff when clients selected the service for online booking.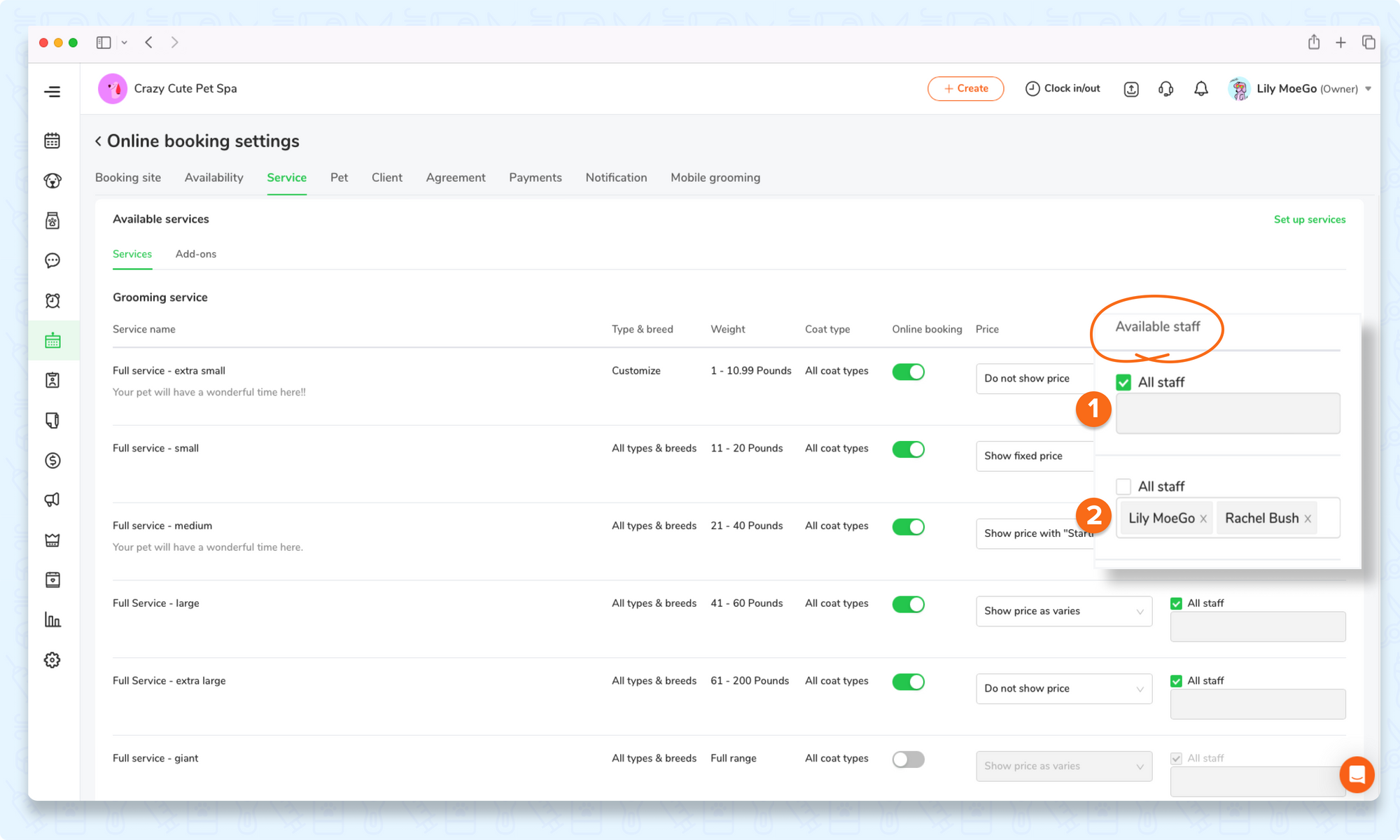 Frequently Asked Question
Q1. Why there are no available services for the pet (Client stops on the selecting service step)?
There are a few steps to troubleshoot:
Check the pet's type & breed, weight, and coat type
Service not enabled for online booking
Q2. Why there is no availability after selecting the service (Client stops on the selecting time step)?
The online booking available time slots are defined by a set of settings:
No staff for certain services / Staff available time is not available /
Closed dates / Closed holiday
Block on the calendar / Existing appointments on the calendar
Booking limits on the pets
Smart scheduling Parameter setting
Certain areas for certain dates
---
MoeGo team is always here 24/7 for you if you have any further questions.